We at Uplink Underground Games value thematic board games above all else! As a small, indie publisher, we are committed to giving you the most thematic board games possible. Want to attend a Mardi Gras parade? Ready to coach an iconic pro football franchise to glory? The Underground has you covered.
Explore the board game titles the Underground has published so far…
---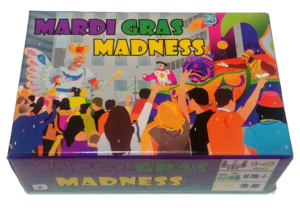 – A light, family card game where players go to Mardi Gras in New Orleans, collecting sets of beads, cups, doubloons, and other "throws ."  Designed by New Orleans natives, Mardi Gras Madness is a thematic parade experience complete with special "Throw Me Something" cards that give you an edge in boxing our the crowd and securing your favorite throw cards. A great experience for up to six players, just like Carnival itself, the more players the merrier! If you miss the parades, try the dedicated solo mode for single-player fun. Compete against the sneaky Mardi Bot AI to snatch your favorite throws before the crowd steals them away!  1-6 players. 25 minutes.
Click here for videos and more details.
– A head-to-head football card game featuring iconic single-season pro franchises. Simulate "what if" games between some of the greatest teams in pro football history. Explore how teams from different eras would fare against each other. Play solo vs the AI, head-to-head against your friends, or share the play calling with another coach. Features real-world offensive and defensive plays and realistic player effects from the unique Game Day deck mechanism.  1-4 players. 90 minutes.
Expansions include:
Five separate Team Expansions (26 teams in all)