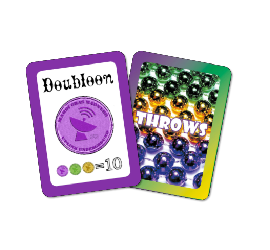 Available Now via Square!
Mardi Gras Madness is a light, family-friendly set collection card game where you are trying to snag the best throws from a Carnival parade! Initially released exclusively in the New Orleans region, the game was designed by locals as a love letter to the Carnival season with an emphasis on theme and local color.
If you play your cards right (and roll your dice well), you could be crowned Monarch of Mardi Gras!
As the parade rolls down the avenue, use your wits to decide which throws to attempt to catch, then roll-off against anyone who dares pursue the same. Over the course of 8 rounds, gather your sets of beads and cups and doubloons (and more!) to gain the most points for your throws. Play your "Throw Me Something" cards strategically to improve your odds and beat out the other poor parade-goers before the festivities end, leaving you grasping for that last set of giant beads to propel you over the finish line.
The game engine is flexible enough to offer Casual and "Carnival" scoring depending on your group's thirst for competition. For solo players, enjoy a competitive puzzle as you match wits against two "Mardi Bot" AIs.
Check out our How-To-Play video here!
Despite the rumors, this is not a lascivious drunken mob scene, although it is a riot to play! Share the fun with your kids, or any group of folks with a penchant for stealing the last doubloon right out from under that little old lady's foot. Like we said… it's a family game!
If you need to know how to start, check out this video: How To Setup Mardi Gras Madness.
Players: 1-6
Ages: 12 & up
Duration: 25-30 minutes
Get your copy just in time for Mardi Gras! Click the link below to order now: