Brainchild of Arthur Franz, our resident football guru, Hurry-Up Offense is an excellent dice-based simulation of the last 2 minutes of a football game. One player serves as the offensive play-caller, trying to lead their team (trailing by 4 points) down the field to score the winning touchdown. The opponent takes over the defensive calls, attempting to stop the offense and preserve victory. It's just that simple.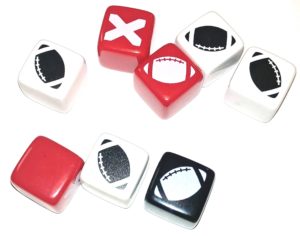 Now, with an updated game board (left) and new custom dice (right), the game looks and plays better than ever. The board now more clearly presents all the rules, while the fancified dice set makes figuring out who succeeds easier from play-to-play. And with the same lightning-fast gameplay and compact tuckbox, it's easier than ever to knock out a few games at the tailgate, or during halftime.
Check out the game HERE and we will keep you updated on when and where it will be available for purchase. Look forward to seeing you on the field!